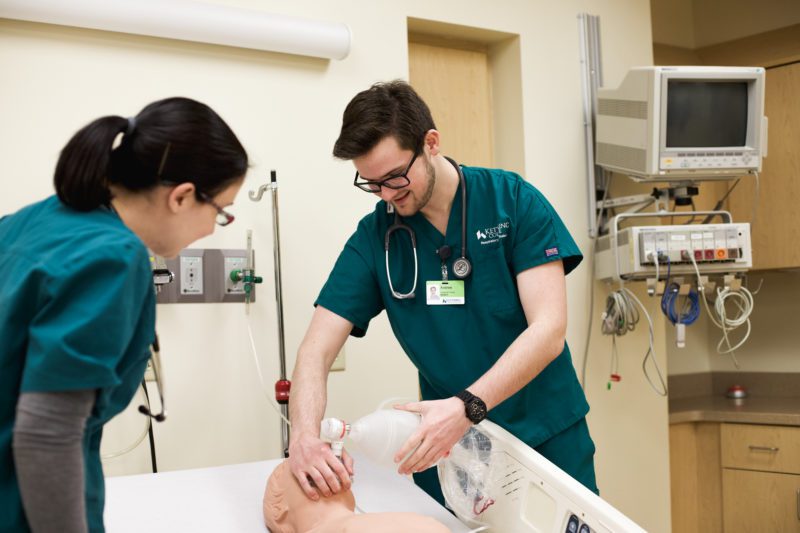 Respiratory Care Program Receives Award for Fifth Consecutive Year
Kettering, Ohio, April 25, 2018 – Kettering College's Respiratory Care Program received the Distinguished Registered Respiratory Therapist (RRT) Credentialing Success award from the Commission on Accreditation for Respiratory Care (CoARC) for the fifth consecutive year. 
Out of the approximately 460 programs in the country, Kettering College is one of 88, who received this award for the 2017 school year. The programs receiving this award must meet 4 criteria.
"It is a huge honor, as very few schools in the country have received the CoARC Distinguished RRT Credentialing Success Award for this many years," Elizabeth Golba, Respiratory Care Program Director and Professor, MEd, RRT, RCP, said. "This award shows students that their program is outstanding and can lead to their success in the respiratory care profession."
The program must have three or more years of outcomes data, they must hold accreditation without a progress report; document RRT credentialing success of 90% or above, and they must meet or exceed established CoARC thresholds for CRT credentialing success, retention, on-time graduation rate, and overall employer and graduate satisfaction.
Respiratory Care is one of the most rapidly growing and challenging specialty areas in the health science field. Kettering College's Respiratory Care Program is an accelerated 3-year bachelor's degree. The program reports it has a 93% job placement rate, as well as a 96% pass rate on the Registered Respiratory Therapist credentialing exams. 
Click here for more information on the Respiratory Care program at Kettering College.