Main Menu
RT @DaytonMagazine: Kettering College @KettCollege Opens Doors to Ukrainian Students – Students whose lives have been disrupted by war cont…
2 days ago
Army Veteran Answers the Call to Nursing at Kettering College
Nursing continues to be an industry that is predominantly female, but we see that landscape slowly changing. Men now make up about 15% of the nurse force as they start to see what a fulfilling and stable career it is. Veterans are also a group who are starting to take an interest in becoming nurses, as so many of their military skills are translatable to a career in nursing.
Kettering College nursing student Michael Collins is breaking molds and stereotypes of who a nurse is. He was in the U.S. Army infantry for nearly six years after high school. He says his job was to be the boots on the ground, and the military provided him direction and discipline as he began to figure out where he wanted his life to go.
Being a nurse was never a conscious goal of his, but when he was in high school, his dad worked hard to become a nurse, and Collins saw how that career changed his dad's life. He was focused and earning a steady income and continues to be a nurse today. Collins recounts a time in the army when a fellow soldier was suffering a heat stroke. He says, "I stayed with him and made sure he was okay. That moment stood out to me, and it was very rewarding. We did a lot of stuff in the army I didn't enjoy, but I remember feeling so fulfilled by helping him."
Between seeing his dad serve others through nursing and helping others in the military, Michael felt the nudge towards becoming a nurse after the military. He first attended Sinclair and transferred to Kettering College and is thriving here. Collins is a straight-A student who loves the small atmosphere of our college. He says he knows all his peers, and they know him, so they hold each other accountable to keep going and stay focused. He says, "It's so easy to find my way around campus, and all the professors are so extremely helpful here."
"I do what I have to do to get the job done."

-Army Veteran Michael Collins, Kettering College Nursing Student
He adds that he appreciates the fast-track nursing program here and is projected to graduate in the summer of 2024. He has his sights set on working in the ICU and possibly continuing his schooling to earn a master's degree in nursing to be a nurse practitioner.
Collins says he tells fellow students here to treat school like a job. He tells them, "Take it seriously, or else you won't do well. The military is paying me to come to school, so I definitely treat it like it's my job, because it is." The military set him up for being accustomed to a schedule, being disciplined, and working well under pressure—all necessary skills for a future nurse and current student.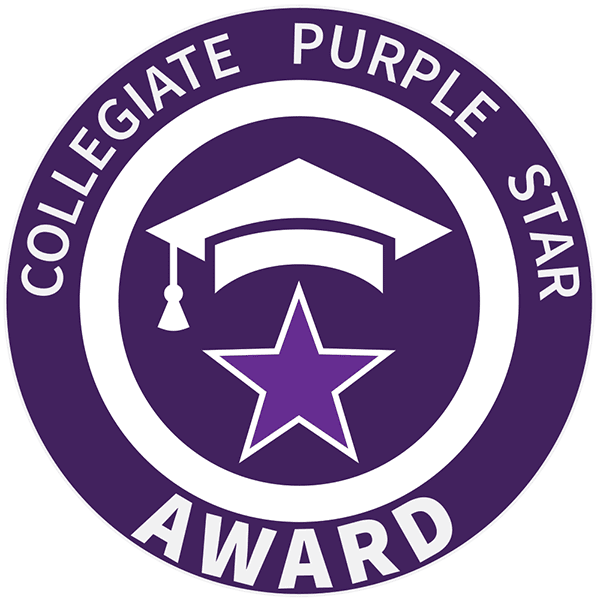 Kettering College was awarded a Collegiate Purple Star designation last year, which means we have taken steps to ensure our campus is welcoming and accommodating for all veterans who want to enroll in our college. Our hope is more veterans like Michael Collins will make the pivot from one career of service to another by studying to become a nurse or other healthcare professional.
As any true soldier and nurse, Collins says, "I do what I have to do to get the job done." We're honored to have him as a student, and we thank him and all veterans for their service to our country. Kettering College is proud of the shining example he is setting for others to break stereotypes of what a nurse looks like and the path they take to get here.
---