Radiologic Technology
>
/
/
Radiologic Technology
Radiologic Technology
Related Links
Radiologic Sciences and Imaging
Main Menu
Associate of Science in
Radiologic Technology
About the Degree
The radiologic technology course of study at Kettering College is five semesters long. Extensive training and knowledge are delivered in a competency-based format through a combination of didactic theory and clinical application in lab scenarios as well as local hospital settings. This format prepares students to meet the challenges of continuously changing health care environments.
About the Profession
Radiologic Technology is a continuously evolving health science profession that combines the safe use of ionizing radiation with technologically advanced electronic acquisition and reconstruction of images. The radiologic technologist's primary task is to provide adequate patient care and produce diagnostic radiographic images. These quality images are evaluated and interpreted by the radiologist, a physician who specializes in reading the exams and diagnosing disease. Only when high quality exams and accurate diagnoses are obtained can patients be provided with the appropriate course of treatment. For more information about a career in radiologic technology, visit the Bureau of Labor Statistics web site.
---
Radiologic Technology Program Scorecard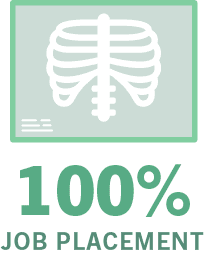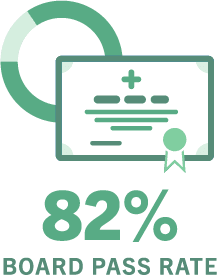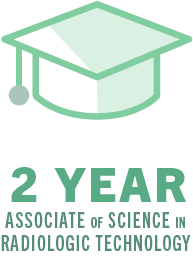 +As reported by the U.S. Bureau of Labor Statistics for 2020 in Ohio
Mission Statement
The Radiologic Sciences and Imaging (RSI) department is dedicated and committed to providing the health care community and the public at large with imaging specialists who are skilled professionals, serving human needs in the Christian context. We are further committed, through accredited student education, to educating students who are devoted to becoming caring, competent, and professional imaging specialists.
Program Effectiveness Data
Kettering College's radiologic technology program has high pass rates and hiring rates. With a 90% credential examination first-time pass rate (5 year average) our students are well prepared to head into their radiology career. One hundred percent of our graduates who seek employment (5 year average) obtain a job in the field of radiology within 12 months of finishing our program! Check out the rest of our program effectiveness data.
Approval & Accreditation

Kettering College is accredited by the Higher Learning Commission, approved by the Adventist Accrediting Association (AAA), and authorized by the Ohio Department of Higher Education. The radiologic technology course of study is accredited by the Joint Review Committee on Education in Radiologic Technology (JRCERT), 20 N. Wacker Drive, Suite 2850, Chicago, IL 60606-3182, 312-704-5300, http://jrcert.org; and by the Ohio Department of Health X-Ray Control Program. The program has been accredited by the JRCERT for more than three decades and has received the maximum 8-year accreditation for the past three accreditation cycles. Students are made aware of the JRCERT accreditation and its standards early in the program. Once the program and college appeals or grievance processes have been exhausted, any student who believes he/she has been treated unfairly or believes the conditions at the program appear to jeopardize the quality of instruction or general welfare of the students may report these allegations to the JRCERT.

NC-SARA

The National Council for State Authorization Reciprocity Agreements (NC-SARA) is an organization that allows member states, districts, and territories of the United States who have comparable national standards to offer postsecondary distance education courses and programs among member states. This agreement is intended to make it easier for students to complete clinical assignments and/or take online courses offered by post-secondary institutions based in another state.

Kettering College (KC) is a member of NC-SARA and Ohio is a SARA state. However, some US states and territories are not members at this time; therefore, KC cannot offer online courses, clinical assignments,  or other forms of distance education in the following American states and territories: California, American Samoa, Guam, Commonwealth of the Northern Mariana Islands (CNMI).

The Ohio Department of Higher Education (ODHE) is responsible for responding to formal complaints against public, independent non-profit and proprietary institutions of higher education in Ohio. While the ODHE has limited authority over colleges and universities, and cannot offer legal advice or initiate civil court cases, the Chancellor's staff will review submitted complaints and work with student complainants and institutions.

Complaints not under the jurisdiction of the Ohio Department of Higher Education include:

Complaints filed more than two years after the incident
Grade disputes
Student conduct violations
Criminal misconduct
Violations of federal law

For additional information and to submit a complaint, please see the Ohio Higher Education website https://www.ohiohighered.org/students/complaints

Professional Licensure & Certification Disclosures for Radiologic Technology

The graduate from Kettering College's JRCERT-accredited Radiologic Technology program meets the educational requirements to sit for the American Registry of Radiologic Technologists (ARRT) RT (R) Entry Level Examination. While in the program, the student is eligible for licensure by the Ohio Department of Health X-Ray Control Program. Applicants who wish to work in states outside of Ohio should contact those states for licensure requirements, visit the ARRT resources related to state licensure (https://www.arrt.org/about-the-profession/state-licensing and https://www.arrt.org/contact/frequent-questions/Category/state-licensing-public/), and Kettering College's Professional Licensure by Program – Radiologic Technology document.

In 2015, the program was granted an eight-year reaccreditation, the maximum amount allotted and a top distinction among radiologic technology programs.

Professional Registration

The radiologic technology graduate is eligible to sit for the American Registry of Radiologic Technologists ARRT RT (R) Entry Level Examination. While in the program, the student is eligible for licensure by the Ohio Department of Health X-Ray Control Program. Applicants may wish to contact other states for licensure requirements.

About the Faculty

The Radiologic Sciences and Imaging faculty is qualified, committed, and highly competent. In addition to extensive teaching and clinical experience in the field, educators use innovative ways to work with students. Faculty members hold advanced teaching degrees and various registries within the medical imaging profession. Aside from abundant expertise and mentorship, the team has strong convictional authority. The greatest honor is to model Jesus in behavior and pass His example down to students. For bio information, click here.