Nursing needs YOU.


You need Kettering College.

Welcome to the Division of Nursing at Kettering College. We're here to connect you to the career of your dreams. Nurses are helping more people, earning more than ever, and building careers that fit their lifestyles. Join an in-demand field and find the fit that works for you.
---
Four Flexible Nursing Tracks Designed For YOU.
Find your fit at Kettering College.
Choose from four tracks and finish with the tools and experience you need. Accelerate your track and jump into your new career quickly or go at a pace that fits into your busy schedule. The personal care and thoughtful attention available to you at Kettering College means you are never alone.
BSN Tracks at Your Pace
When you know nursing is the career for you, jump right in and enroll in Kettering College's pre-licensure program track as a full or part-time student. Finish in three years as a full-time student or five years part-time and earn your Bachelor's Degree in Nursing from Kettering College.
Accelerated Bachelor of Science in Nursing for professionals in other fields
If you've decided a career in nursing is a better fit for you, but you have a bachelor's degree in another field, you can now leverage your existing degree and accelerate to a Bachelor of Science in Nursing. This 15-month program will allow you to use the education you have to jump ahead further onto the right path toward a new career in the field of nursing.
Online RN-to-BSN Track
A flexible online degree track with a schedule that accommodates your existing career and lifestyle. Take your career to the next level and turn your RN into a BSN working at your own pace. The accelerated program is divided into 7-week sessions, so you can move forward quickly toward advancing your career. You make the choice. Choose a full-time or part-time pace. Stop and start as you need to fit your schedule. As our most flexible track, this program is built around you and your needs as a working RN. 
LPN-to-BSN Tracks
If you are looking for a way to accelerate your career in nursing, convert your LPN to a BSN at a pace that fits in your schedule. Our full-time track moves you to the next level in your career in just three years, while our part-time track option is designed for busy professionals or nurses that need to fit classes around other priorities. Finish in five years and keep your career moving forward without impacting your everyday schedule.
---
Students in the nursing program at Kettering College are set up for success.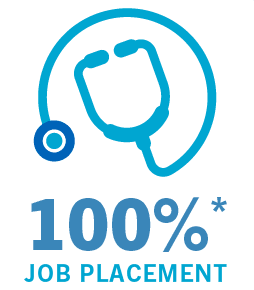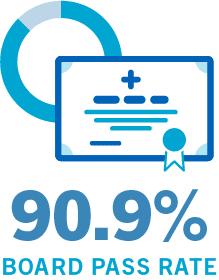 *As reported by the U.S. Bureau of Labor Statistics for 2021 in Ohio
*NCLEX first-time pass rate 2021
Expect more from your education.
Our nursing students experience abundant opportunities for a robust clinical, academic, and service experience.
Low student-to-teacher ratio.

State-of-the-art simulation center.

Connection to Kettering Health.
When your education focuses on personal attention, practical experience, and whole-person care, you can expect to be prepared for a secure future. Live your dream and thrive in a career you care about.
We believe education is a
whole-person experience
Learn more about what that means for your future
---
Industry Insight
As a profession, nursing is in high demand right now. The program at Kettering College prepares nursing students to stand out and earn placements quickly with flexible and fast-paced, accelerated program tracks that focus on opportunities to learn a complete care approach to healthcare and craft a career that fits into individual goals.
Nurses who graduate from Kettering College can anticipate high demand in the job market,
with an average starting salary of $65,000. Kettering College works closely with Kettering Health to maximize employment opportunities for its graduates. More than half of the college's 2021
nursing graduates obtained jobs within Kettering Health. The thriving, faith-based health
network of 13 medical centers employs 12,000-plus people in southwest Ohio.
Nursing is an art and a science that involves enabling individuals, families, and communities to attain mutually established health goals. Communication, critical reasoning, and decision-making through a problem-solving process are crucial to both the art and science of nursing. Christian caring enhances the maintenance, promotion, and restoration of health.
Whether you are just starting out, changing your career or looking for a way to finish your degree at a flexible pace, Kettering College provides the personalized experience you need to keep moving forward. Kettering College graduates are in demand. With a winning combination of personal attention, practical experience and whole-person care, you can expect to be prepared to succeed and excel in a secure future.
Approval & Accreditation

We are accredited by the Higher Learning Commission, approved by the Adventist Accrediting Association (AAA) and authorized by the Ohio Department of Higher Education. The Bachelor of Science in Nursing (B.S.N.) prelicensure, the Accelerated BSN-P and the LPN to BSN tracks, have been granted full approval from the Ohio Board of Nursing 17 S. High St., Suite 660, Columbus, OH 43215-7410. The BSN degree (B.S.N. pre-licensure, Accelerated BSN-P, LPN to BSN and the BSN online completion tracks) is accredited by the Accreditation Commission for Education in Nursing (ACEN), 3390 Peachtree Road NE, Suite 1400, Atlanta, GA 30326, (404) 975-5000, www.acenursing.org.

The most recent accreditation decision made by the ACEN Board of Commissioners for the Kettering College nursing program is Continuing Accreditation.

View the public information disclosed by the ACEN regarding this program at
Search ACEN Accredited Nursing Programs (acenursing.com)

Professional Licensure & Certification Disclosures for Nursing

The Bachelor of Science in Nursing program at Kettering College meets the state education requirements for a registered nursing license in the state of Ohio. Kettering College has not determined if the Bachelor of Science in nursing program at Kettering College meets the state education requirements in any other state, any U.S. Territory, or the District of Columbia.

If a student who graduates from the Bachelor of Science in Nursing program at Kettering College would like to practice in a state other than Ohio, the student should review the Nursing Practice Act and the board of nursing professional licensure requirements for that state, U.S. Territory, or the District of Columbia. Helpful information can be found at the following website: NCSBN—Board of Nursing Professional Licensure Requirements.

The state of Ohio is a member of the Nurse Licensure Compact (NLC) which allows holders of a multi-state license to practice in states that are part of the compact. Ohio Board of Nursing | Ohio.gov

The revised regulations do not apply to international programs.

Nursing Department Student Handbook