Respiratory Care
Related Links
Academics
Main Menu
3-Year Bachelor of Science in
Respiratory Care
The respiratory care degree is designed to prepare students to function with intelligence, skills, and behaviors of a registered respiratory therapist through various technical courses and clinical experiences. These experiences include cardiopulmonary assessment, basic care in oxygen, aerosol, hyperinflation, bronchial hygiene therapies, critical care, physiologic monitoring, cardiopulmonary diagnostics and rehabilitation, home care, as well as perinatal and pediatric respiratory care. The primary purpose of respiratory care is to aid the physician in the diagnostic evaluation, treatment, and rehabilitation of patients with lung and/or heart disease.
The religion, humanities, social sciences, math, and sciences courses assist the student to develop an understanding of self, the environment, and one's relationship to life and service. In addition, the respiratory care student will study the expanded therapist's role in the healthcare system including research, leadership, management, and education.
---
Respiratory Care Program Scorecard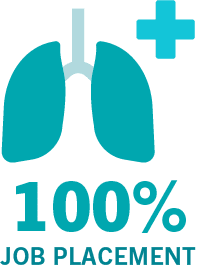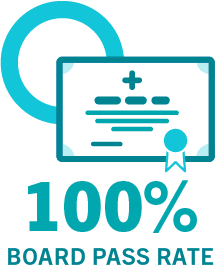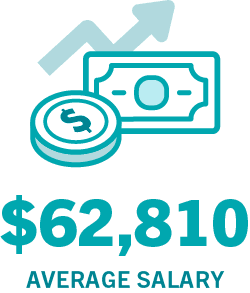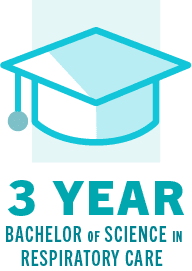 +As reported by the U.S. Bureau of Labor Statistics for 2020 in Ohio
As reported by the Respiratory Care program for 2020 graduates as of February 2021.
---
Admissions
View the admissions requirements for the Respiratory Care program.
Cost
View the cost of tuition with
available scholarships for the Respiratory Care program.
Curriculum
View the three year curriculum
sequence for the Respiratory Care program.
---
Respiratory care is one of the most rapidly growing and challenging specialty areas in the health sciences.

100% job placement rate*
100% pass rates on RRT credentialing exams* 
Awarded CoARC Distinguished Credentialing Success Award for 6 years
* Data obtained from the 2019 report to CoARC and reflects 2018, 2019 graduating cohort results.
---
Approval & Accreditation

The Kettering College entry into respiratory care base program #200073 is accredited by the Commission on Accreditation for Respiratory Care (CoARC). For further information regarding the Kettering College respiratory care program outcomes data, please visit www.coarc.com.

The CoARC's outcomes webpage https://coarc.com/students/programmatic-outcomes-data/ provides outcomes data for all its accredited programs. "CoARC accredits respiratory therapy education programs in the United States. To achieve this end, it utilizes an 'outcomes based' process. Programmatic outcomes are performance indicators that reflect the extent to which the educational goals of the program are achieved and by which program effectiveness is documented."

Kettering College is accredited by the Higher Learning Commission, approved by the Adventist Accrediting Association (AAA), and authorized by the Ohio Department of Higher Education.

Professional Licensure & Certification Disclosures for Respiratory Care

Graduates from Kettering College's CoARC-accredited Respiratory Care program meet the educational requirements to apply for the NBRC Therapist Multiple Choice (TMC) examination to qualify for the NBRC Certified Respiratory Therapist (CRT) credential. Candidates who achieve the high cut score on the Therapist Multiple-Choice (TMC) are eligible to apply for the Clinical Simulation Examination (CSE) which is required for the NBRC Registered Respiratory Therapist (RRT) credential. Graduates are eligible to become licensed as a Respiratory Care Practitioner by the State Medical Board of Ohio at https://med.ohio.gov/.

Licensure from the State Medical Board of Ohio is required for employment in Ohio.

Those interested in seeking certification and/or licensure to practice respiratory care in other states should contact those states for licensure requirements, visit the American Academy of Respiratory Care resources Respiratory Therapist State Licensure Information and Contacts, and Kettering College's Professional Licensure by Program – Respiratory Care document.
Talk to an enrollment specialist to answer any of your questions about the program, transfer credits, scheduling a tour, or financial aid at (937) 395-8601.