Kettering College Celebrates its 54th Commencement Ceremony
As a result of the pandemic, the world acknowledges the sacred work healthcare workers do now more than ever. This sentiment was echoed by speakers at the Winter 2022 commencement ceremony, held on Friday, April 29, 2022 at Southbrook Christian Church.
Over 100 graduates gathered at the ceremony—the first in over two years without any COVID-19 restrictions. The feeling of gratitude, excitement, and relief resonated throughout the afternoon as recipients accepted their degrees after years of hard work with the added obstacles of a worldwide pandemic.
President Nate Brandstater addressed the graduating class, stressing the importance of this career path.
"Over the last 2 years of unprecedented challenges and disruptions, people all over the world have acknowledged a truth: Healthcare is a calling, and the people who are called to it are heroes."

-Nate Brandstater
He went on to talk about students' "transformational journey" saying, "You are not the same person you were when you began this journey. Neither is our college, and neither is our world."
Graduating Radiologic Technology student Richard Courtney Rasmussen reflected on his time at Kettering College and acknowledged students come here with different life paths but with one shared goal to help others.
To further illustrate this, Rasmussen asked graduates to raise their hand if:
They got engaged, married, or had a baby while they were earning their degree
They're over the age of 26, 35, or 40
They've lost a loved one while earning their degree
They're a single parent
Most of these questions had several hands being raised, reminding us that our students do indeed come from many different walks of life, and do an excellent job of juggling life with chasing after their goals with grit and determination.
Rasmussen said he felt a difference at Kettering College and was drawn to its inclusive learning environment and culture. He stressed that students here are taught values—that patient care is people care whether someone is at their best or worst.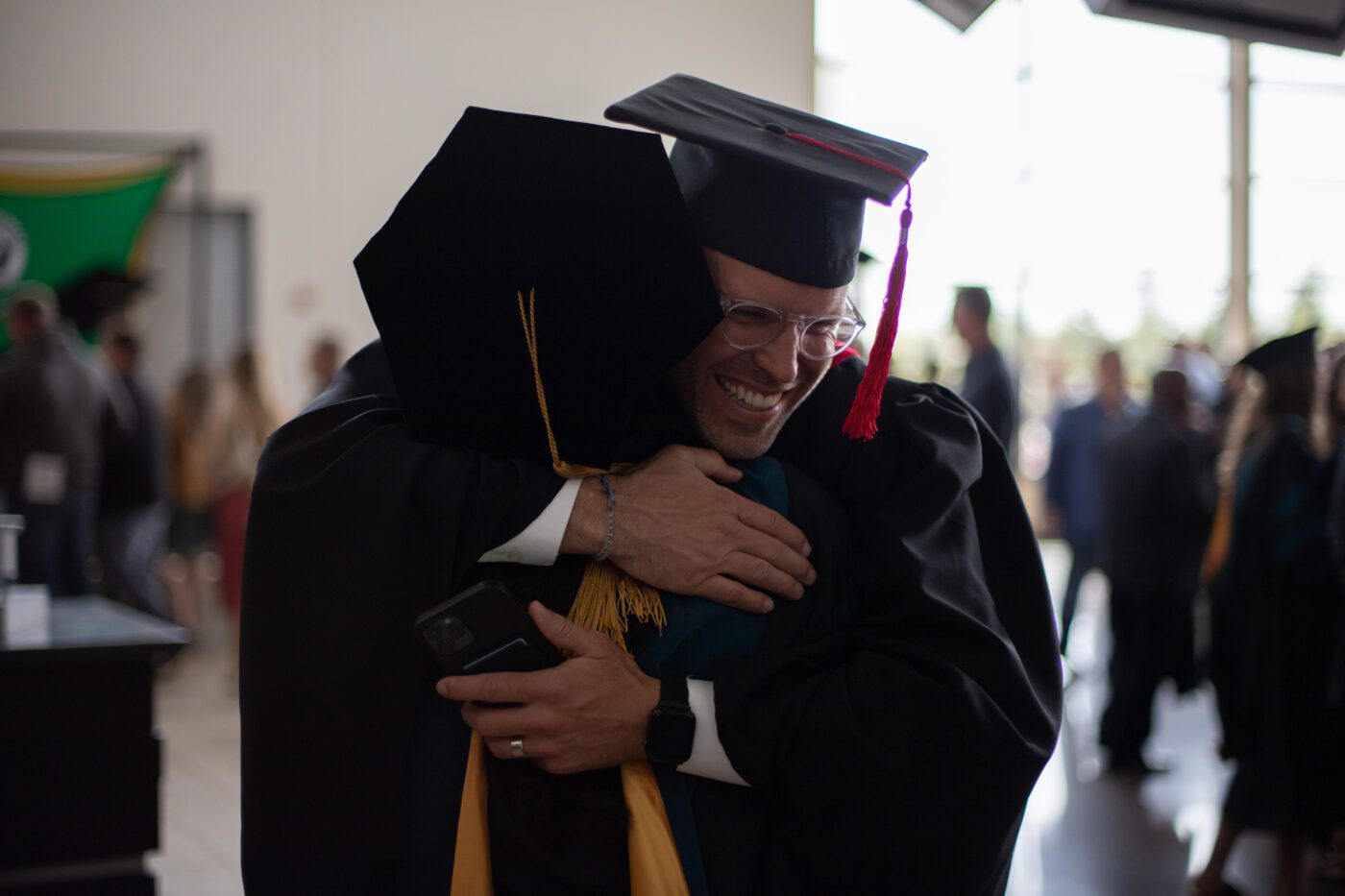 After graduates received their diplomas, Steve Carlson, Director of Campus Ministry ended the afternoon with reflection and a prayer. He said a Bible verse, Psalms 90:17 came to his mind as he thought about graduation. It says, "May the favor of the Lord our God rest on us. Establish the work of our hands for us—yes, establish the work of our hands."
Carlson added: "And that's our prayer for our graduates that God would do something powerful, wonderful, and healing through the skills they've acquired through the heart He has placed inside of them, and that the world would be a better place as He establishes the work of their hands."
"Jesus, we are incredibly thankful for these graduates, for the desire you gave them to make humanity and the world a better place and to follow you, wherever you may lead…One patient at a time, one day at a time, making the world a better place."

-Steve Carlson, Director of Campus Ministry
With no masking policy in place, it was even easier to see the joy on students' faculty, and families' faces as the afternoon ended to commemorate the journey of these heroes. We thank them all for their service and are grateful for their giving hearts.
---
About Kettering College
Kettering College is a fully accredited, coeducational college that specializes in health science education. A division of Kettering Health, the College is located on the Kettering Health Main campus in a suburb of Dayton, Ohio, and is chartered by the Seventh-day Adventist Church. Kettering College offers an Occupational Therapy Doctoral program, a Master of Physician Assistant, Bachelor and Associate of Science degrees, and certificate programs.