Coordinator Named for Community Health Worker Training Program
Kettering College recognizes the need to serve marginalized communities and help connect them with the right healthcare resources. Community Health Workers (CHW) are an essential part of closing the gap of healthcare disparities in areas that are under-resourced and underserved.
CHWs are liaisons between medical professionals, social workers, and patients. They help patients and their families navigate and access community services, healthcare resources, and adopt healthy preventative behaviors. They are part educators, part social workers, and part nursing assistants who live in the communities they proudly serve.
To increase the amount of CHWs in the Dayton area, Kettering College is in the process of launching our Community Health Workers Training Program (CHWTP). The program has a projected goal of having 150 certified CHWs in place within 3 years in the Trotwood and Dayton area, two locations designated as medically underserved by the Health Resources and Services Administration (HRSA).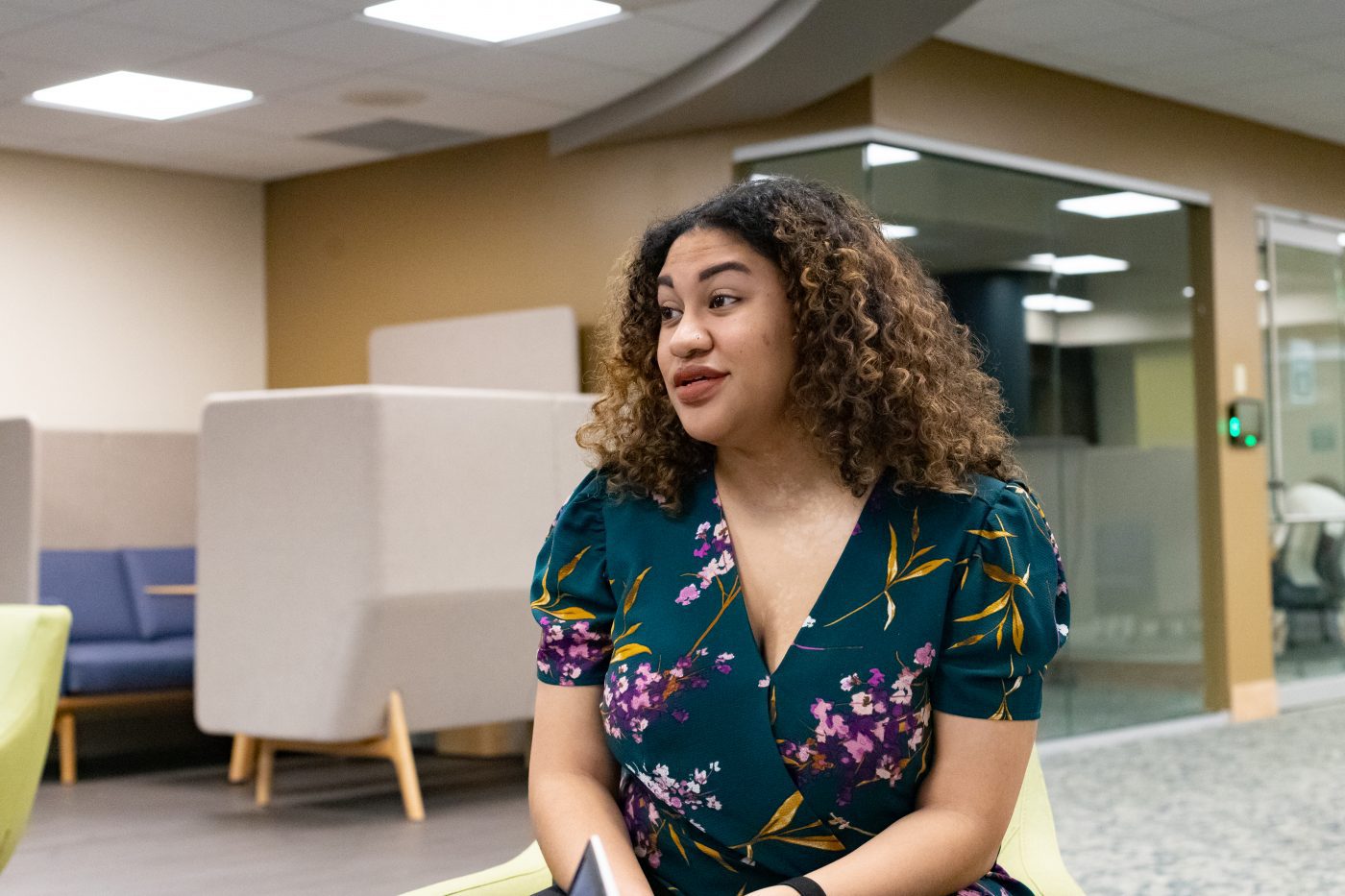 Johnjé Jasper joined Kettering College in December 2022 to take on the role of coordinator of this program. The college received a grant from the HRSA to fund it, and now Jasper will bring the program's vision to life by creating curriculum, engaging the community, and building relationships with area organizations to offer practicums and job placement for future graduates.
Jasper is a registered nurse who has been working in the emergency room within the Kettering Health system for the past two years. Originally from Texas, she says it is in the emergency rooms where she learned about Dayton from her patients and what their needs are. She says, "I loved being on the frontlines of the community and getting to know the whole patient, so I could understand their needs and obstacles, as well as what resources are available in the Dayton area."
She is no stranger to having to work hard and experiencing barriers herself, as a daughter of an immigrant single mother. Growing up, she cared for her younger sister and held jobs throughout college to help care for her grandparents and cousins. As a result of her own journey, she brings resilience and empathy to this work that allows her to approach the program with vulnerability and understanding.
The first cohort of CHWs is expected to begin in May 2023. The certification program will be 12-16 weeks, and Jasper will make sure the classes meet in the evenings to be accessible to the working person. The program will consist of 100 hours of didactic work and 130 hours of clinical practicum, which will include simulation and community outreach.
"I want this to be transformational for participants."

-Johnjé Jasper, BSN, RN, CHWTP Coordinator
As entry-level healthcare workers, CHWs will be human connection for patients to educate them, build trust, and to connect them to resources. They'll learn basic anatomy and physiology, across-the-lifespan education, how to obtain vital signs, and professional skills such as how to do a home visit and communicate with providers, as they will be the contact between patient and provider.
Students must be at least 18 years of age and have a high school diploma or GED. Jasper says, "They don't have to have a medical background or college experience. We want to reach the population in Trotwood and Dayton that looks like the community they're going to serve as a CHW one day. The whole point of this program is for patients to have a healthcare provider who looks like them."
Jasper points out that gaining trust is an essential component in healthcare. She says, "Minority communities have a big distrust of the medical system, which is understandable; however, we have to figure out as a community how to teach people to be advocates for themselves to get the right care." By training CHWs who can relate to patients because they have shared experiences, it can often take the shame out of asking for help because it is a shared, normalized experience.
"We want to educate patients on how to access resources to first get their basic human needs met without shame."

-Johnjé Jasper, BSN, RN, CHWTP Coordinator
Jasper gives an example scenario: "Mr. Smith in the ER is not going to appreciate a random person telling him to take his medication with a meal when he knows he doesn't have money for food and is embarrassed. We want someone to spend time understanding him as an individual and help address those needs. We look at Maslow's hierarchy of needs and start at the basics before we go higher. We want to educate patients on how to access resources to first get their basic human needs met without shame."
Since the CHWTP's mission is to train those within the community to serve the community, students might also need assistance to complete the program. The grant Kettering College has received covers tuition, laptops, as well as assistance with various wrap-around services to help with expenses such as childcare or transportation. The aim is to eradicate obstacles for students who are experiencing some of the same barriers as the patients they will one day serve.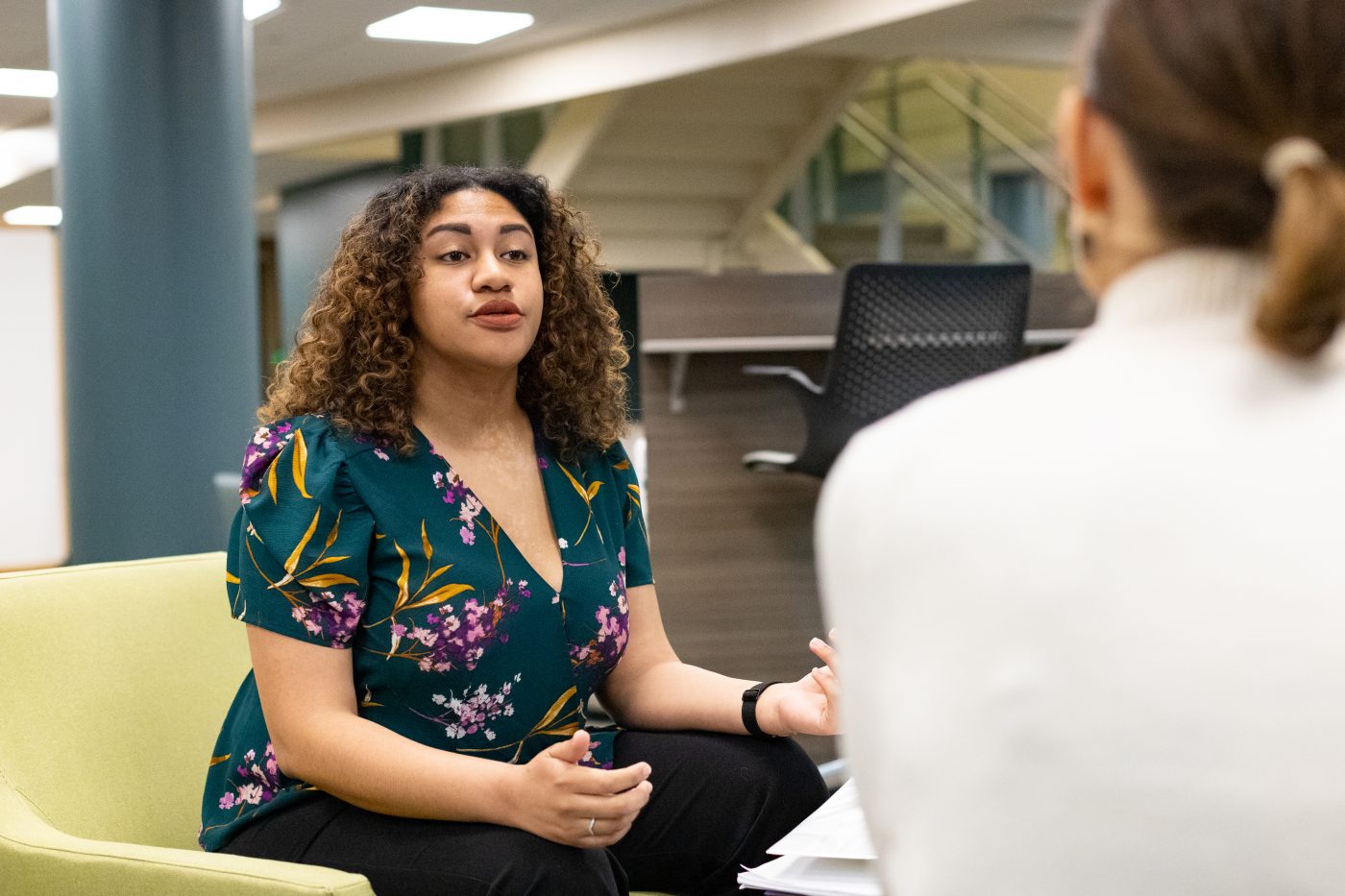 The grant covers tuition and laptops for incoming students, and the program will assist with job placement for CHWTP graduates. Jasper's hope is this opportunity will be of interest to Kettering Health employees from departments such as dietary or environmental services who want an entry-level healthcare position. Jasper says, "They might realize once they become a CHW they like it so much, they want to keep going to be a nurse or social worker. I want this to be transformational for participants."
"It feels divine to be here."

–Johnjé Jasper, BSN, RN, CHWTP Coordinator
The goal of a CHW is to merge social work and healthcare to see and treat the whole person, and Johnjé Jasper is precisely the driven healthcare professional to lead this charge. In 2018, her 5-year plan was to be in public health nursing and education, although she wasn't sure what specialty or unit she wanted to work in after graduation. And five years later, here she is. She says, "It feels divine to be here. God placed me here for bigger reasons beyond knowing how to write curriculum. I'm so grateful to be here."
We look forward to seeing how the CHWTP grows in the coming years. Please reach out to Johnjé Jasper with any questions about the program or if you would like to be considered to be a speaker for the incoming cohort.
---