Main Menu
RT @DaytonMagazine: Kettering College @KettCollege Opens Doors to Ukrainian Students – Students whose lives have been disrupted by war cont…
2 days ago
Kettering College to Welcome 50 Students from Ukraine
This coming fall, Kettering College will welcome up to 50 students mostly from Ukraine. The General Conference of Seventh-day Adventists (SDA) created an "Education Emergency Plan" in March 2022 as the Russian invasion began in Ukraine and asked Adventist colleges and universities in North America how they could help support students whose education was being disrupted.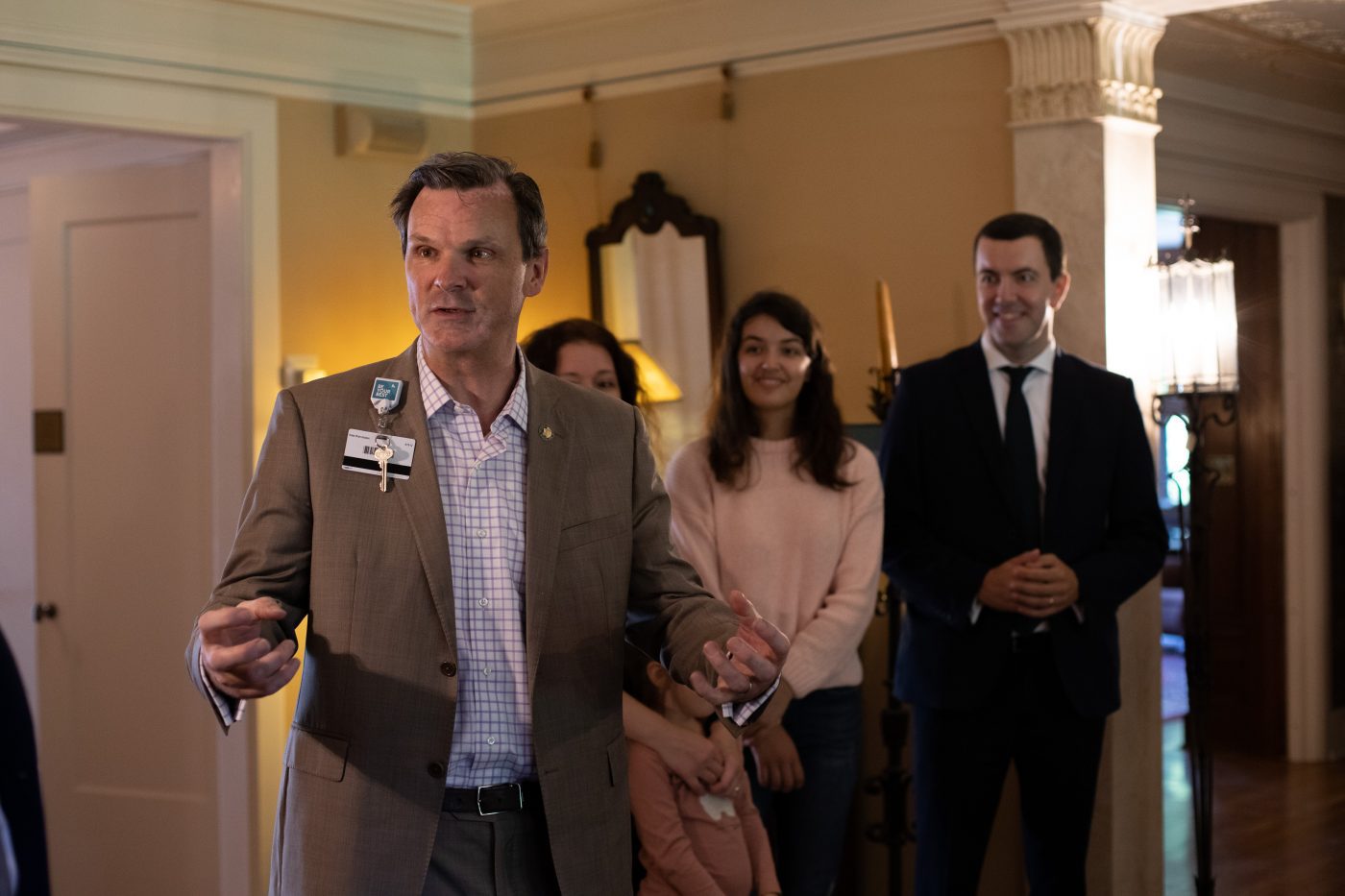 Kettering College President Nate Brandstater thought bringing students to our college to continue their education would be an action that could help tremendously. He reached out to leaders at our school and Kettering Health because, as he explains, "We do things here as a family. I wanted to make sure bringing Ukrainian students here was something we could wrap our arms around together."
He was transparent in his communication to everyone that he did not have all the answers about how we would support Ukrainian students, but he felt compelled to ask anyway. Every email response he received from colleagues was in full agreement to pursue this endeavor.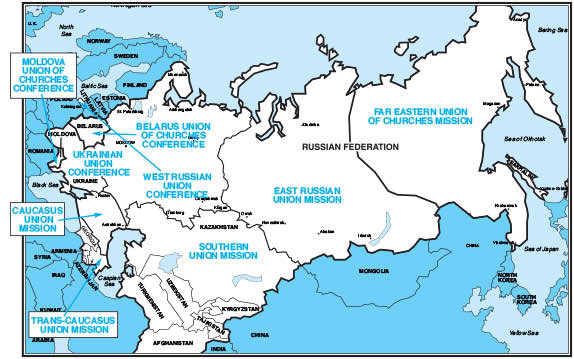 The Euro-Asia Division (ESD) of SDA is the organization that works to implement education to those in need, spanning 12 countries, including 79 schools with 40 more in the planning process. Ivan Riapolov is the education director there. Along with his wife and two daughters, he recently came to Kettering College to begin the partnership between our university and the ESD. He gave an overview of the impact the organization has on students whose education has been disrupted or unavailable in several countries for various reasons.
The goal of the ESD is to offer education to people within the Adventist church but also to those outside of it. Ivan mentioned a school they run in Afghanistan, a country where there is very little religious freedom and being Christian is not a supported option. Ivan says no one can be baptized as a Christian. "They must leave the country to do it in secret and never admit they believe in Jesus." Ivan says, of course, no one is Adventist in the school run by ESD there, but they do have the organization's logo on the wall. He says, "God will open doors—we believe in the future they will see the logo and remember it from their school and look into what it stands for. We hope this will get them to know our church better one day."
Ivan explained to the group that he and his wife are originally from Ukraine and moved to Russia years ago to teach English at Zaoksky Adventist University. His parents and his wife's parents still live in Ukraine where shelling has become quite common in their city. He showed photos from Ukraine, noting, "Most of these buildings are ruined now. You've all seen the war on TV, so there's no sense in going over all the atrocities again for you."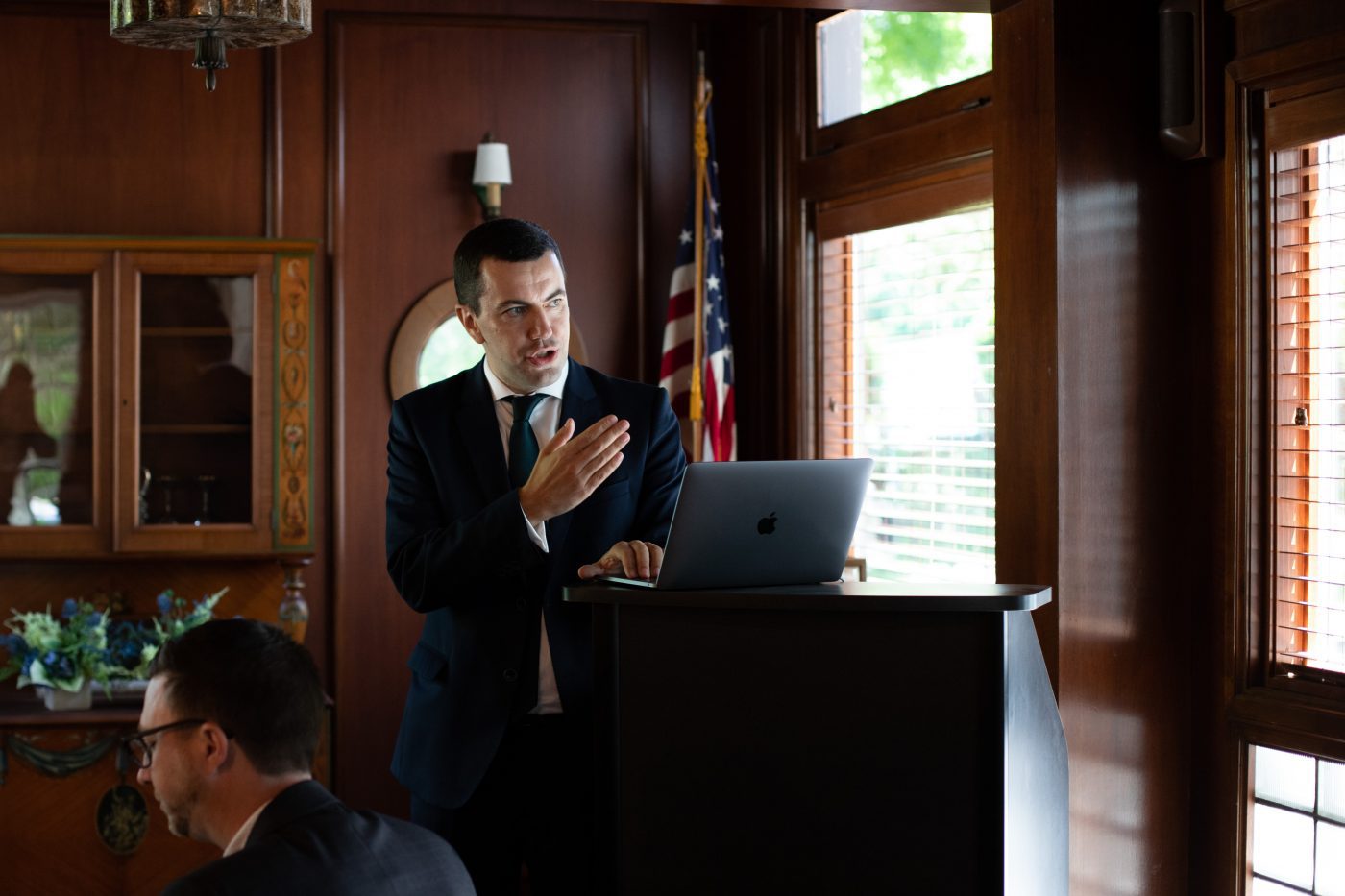 "What is going on in Ukraine is a war with all the war crimes that can be imagined. It's a horrible situation."
He reminded the group that males are not allowed to leave the country unless they are students at foreign universities. The number of refugees so far has exceeded 14 million.
Ivan thanked Kettering College for accepting 50 students from the ESD program.
"Whenever we talk about what can be done for Ukrainian students and refugees, Kettering College has done what no one else has, and others look up to you."

-Ivan Riapolov, ESD Education Director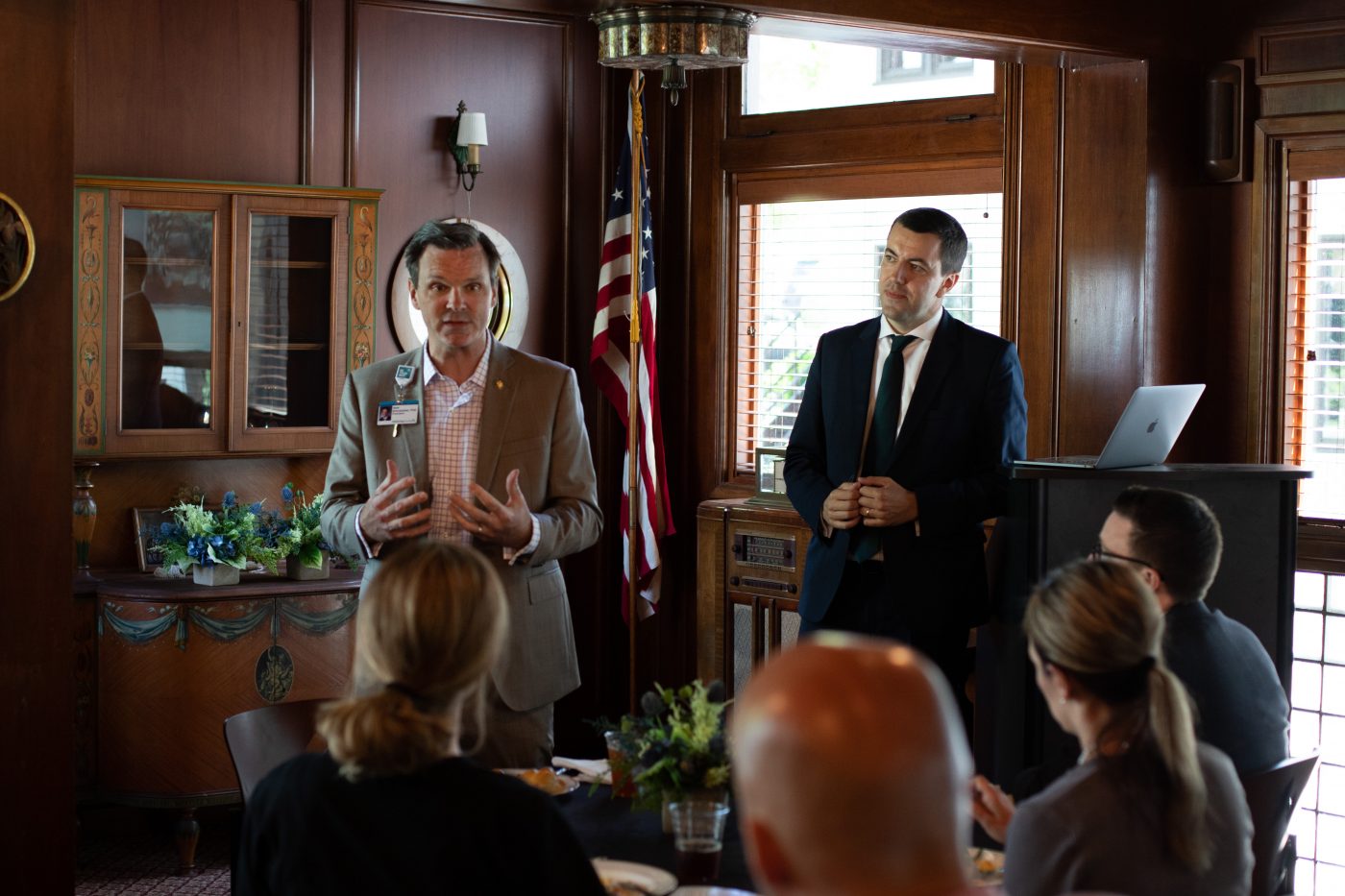 Nate thanked Ivan for presenting to the group. He said, "This is one step on an amazing journey where we feel like we are going to be the ones who are blessed from our relationship as we deepen it. We are looking forward to what God will do through this friendship."
The Ukrainian students will be studying mostly nursing this fall. The ESD has worked with the incoming students to ensure their English skills are sufficient to succeed in an all-English college and that they are serious about their studies and intentions. We currently have a block of rooms for them in our residence hall.
As Nate pointed out when he first asked for support from fellow staff and faculty, we still do not have all the answers about how we will support and lift up these misplaced students, but leadership agrees it is the right step.
"There are going to be challenges, no question about it, but the challenges we'll encounter with this initiative will be an incredible blessing to this group of students and to our community."

-Nate Brandstater, Kettering College President
Several of the Ukrainian students have reached out to us to express their excitement and gratitude about the chance to continue their studies:
Natalia: "The war in Ukraine took a lot away from me: my home, my job, my family, my peace and quiet, but also the hope of realizing my dream of working in ultrasound. For me, studying at Kettering College will give me a chance to achieve my goal, and to find peace and tranquility in an Adventist atmosphere."
Pavlo: "Entering Kettering College will give me an opportunity to receive a quality medical education based on Christian values, which is not possible in Ukraine. This way, I will have a chance to stay safe and help people after graduation."
Anhelina: "I want to get a high quality education at Kettering College so that I can serve people. As a result of the war in Ukraine, I can't visit my university and receive the necessary knowledge offline. I would really like to study among people who share my faith and my values."
Liubomyr: "It's an opportunity to look at the world from a different angle, new people, new thoughts, new opportunities, it's something new to me. It's a chance for a new life, maybe even just a life, since our country is at war and no one can guarantee that you will wake up tomorrow."
Ivan's daughter will be studying with us this fall, and she feels like this opportunity is a miracle. After spending the weekend in Kettering, Ivan reports: "Everyone made a very deep and extremely pleasant impression. We praise God for leading our daughter here."
Although the war in Ukraine continues, and we will face obstacles with these students as they acclimate to a new world here in America, the hope they feel as a result of this opportunity encourages us that we will figure it out together because it is worth it.
As we prepare for the arrival of these students whose lives have been disrupted by war, we hope you will join us in lifting them up in prayer for safe travels and an easy transition in a new country. We look forward to working hard with them to see where this brave new step will take them in their future.
---
About Kettering College
Kettering College is a fully accredited, coeducational college that specializes in health science education. A division of Kettering Health, the College is located on the Kettering Health Main campus in a suburb of Dayton, Ohio, and is chartered by the Seventh-day Adventist Church. Kettering College offers an Occupational Therapy Doctoral program, a Master of Physician Assistant, Bachelor and Associate of Science degrees, and certificate programs.